Parcel Packing and Door to Door Pick Up Facility at Railway Stations
Indian Railway started yet another innovative passenger friendly facility at Railway Stations. Details of Parcel Packing and Door to Door Pick Up Facility at Railway Stations are here.
Door-to-Door Delivery by Railways
India Post and Indian Railways are jointly developing a 'Joint Parcel Product' (JPP), as announced in a press release on April 6, 2022. Under the JPP, the Department of Posts will offer first-mile and last-mile connectivity, while Railways will handle the intermediate connectivity between stations. This initiative is aimed at serving both business-to-business and business-to-customer markets, offering a comprehensive parcel handling solution. This includes collecting parcels from the sender's location, booking, and delivering them to the recipient's doorstep. The pilot project for the JPP collaboration between Indian Railways and India Post commenced on March 31, 2022, with the first service operating from Surat to Varanasi.
Parcel Packaging Facility at Railway Stations
East Coast Railway announced that Parcel packaging facility started at Railway stations to provide benefit to the passengers and Railway users. Details are attached.
Door to Door Parcel Pick Up Facility by Railway ~ News
Pick Up and Drop Off (PUDO) Facility at Sealdah Metro Station Started
Kolkata Metro Railway announced that Metro Railway has started Pick Up and Drop Off (PUDO) parcel facility at Sealdah Metro station o­n 22.05.2023. This facility, first of its kind in Indian Railways, will help common people in general and Metro commuters in particular to send their parcels at any corner of the world easily and receive their consignments from this station during the service hours of East-West Metro(Green Line).
This PUDO facility which is very common and popular at the Metro stations of USA, Europe and Australia will be an added facility available at Sealdah Metro station. Expressing his happiness, Metro GM has informed that this facility may be available in other Metro stations in future depending o­n the responses of the common people. With the opening of this PUDO facility at Sealdah Metro station, which is frequented by commuters of suburban districts, it is expected that a large number of people will be able to book their consignments instantaneously at this counter and also people from far flung areas will be able to receive their parcels from here too.
End to End Luggage/Parcel service Facility at Railway Stations
Western Railway announced (27.01.2021) that End to End Luggage/Parcel service by http://Bookbaggage.com has been introduced by WR at Ahmedabad Railway Station. It is the first NINFRIS (Non-Fare Revenue Ideas Scheme) contract of its kind to be implemented over Indian Railways.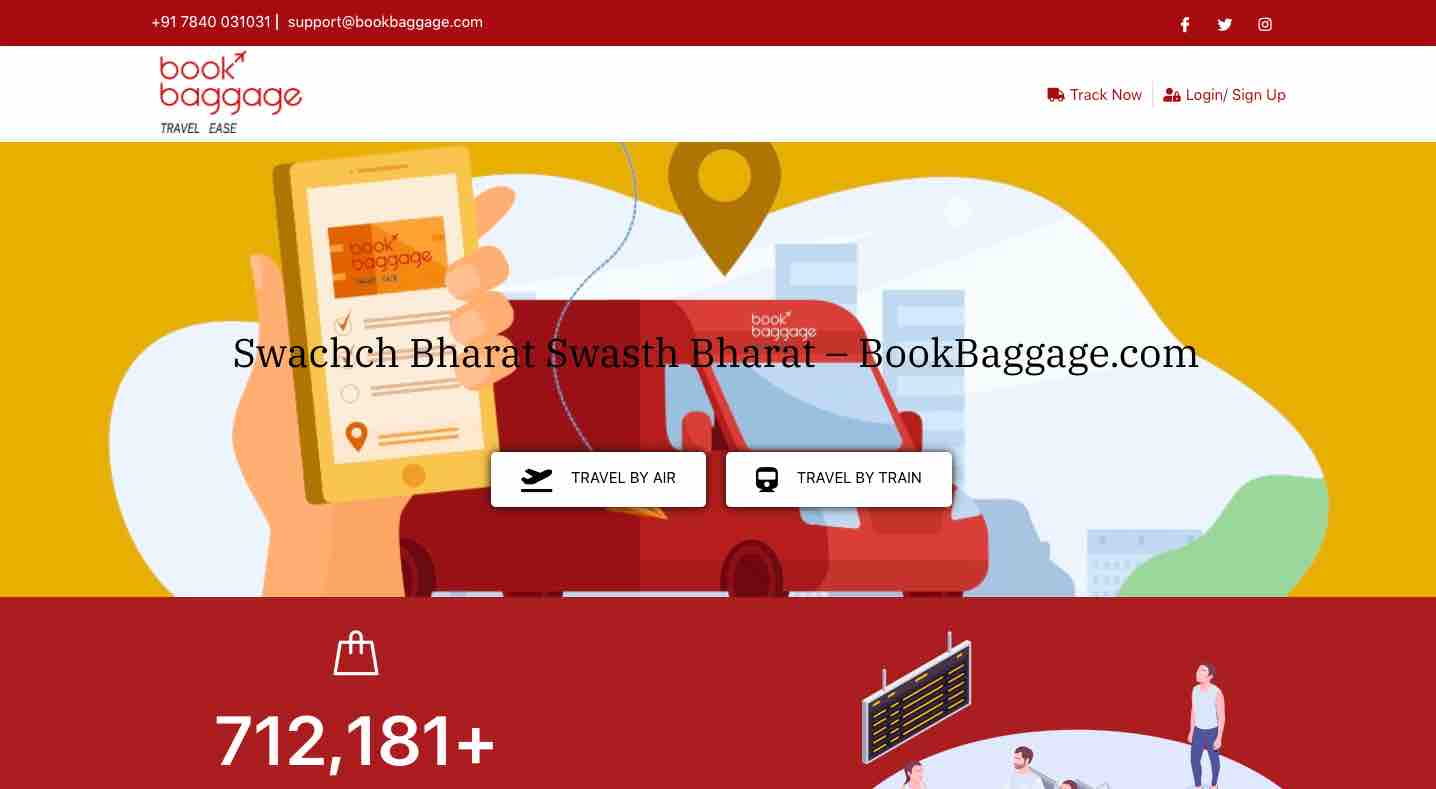 Two Wheelers Pick-Up Facility By South Western Railway
South Western Railway has tied up with a private firm to facilitate a pick-up facility, and it is a relief for people shifting cities and wanting to take their two wheelers along. The firm will collect two – wheelers from people's housed and transport them to KSR Bengaluru City and Yeshwanthpur stations. Earlier, two-wheeler owners had to get their vehicle to the railway station, empty the petrol tank and pack it, forcing many to depend on touts. However, Railway officials said the pick up service is optional.
Motor Cycles Parcel Packing Facility and Door-to-Door Pick up Facility at Railway Stations
Hyderabad and Secunderabad Railway Stations launch Parcel Packing facility for Motor Cycles along with Door-to-Door Pick up
South Central Railway has introduced yet another first of its kind customer friendly service with Parcel Packing and allied services at the door step of the customers who want to transport their belongings.
Earlier, there was no official packing service and prescribed rates at these two major parcel handling stations. Customers used to hire the services of private individuals and pay the parcel charges depending upon the demand at the parcel office area.
Now, South Central Railway has come up with the initiative of having o­ne single authorised agency for streamlining and providing standardized service to the customers.
Accordingly, these value-added services have been introduced at Secunderabad and Hyderabad Railway Stations to facilitate the customers. At both these stations an agency has been fixed with an earmarked space of 150 square feet.
Sri Gajanan Mallya, General Manager, SCR complemented the Secunderabad Divisional authorities for the customer-friendly initiative in parcel packing. He advised them for the extension of such facility to all important Railway stations in a phased manner.
The Agency will provide comprehensive solutions to the customers who want to send their parcels o­n Railways. The agency will provide man power and packing material to meet the requirements of customers at these two Parcel offices. Other optional and value-added services include facility for packing of other Luggage / Parcels and Door-to-Door pick-up and drop facility.
This service is particularly helpful to people who want to transport their two wheelers by trains. Now, not o­nly can they get the professional packing done but also have their vehicle picked-up from their home itself for transportation by railways just by dialling Mobile No.
9177550577
The same facility is also applicable to all the parcel consignments.
Main Advantages
The main advantages of this contract are:
The problem of overcharging will not arise.
2-wheeler packing will be done away with proper billing will be done.
More professional and customer friendly interface.
Door to Door delivery will give lot of convenience to the customer.
An additional earning of 5.6 lakh per annum.