Ahmedabad Metro / Gujarat Metro Details
Ahmedabad Metro is in Gujarat. ✅ Ahmedabad Metro construction is under Gujarat Metro Rail Corporation (GMRC) Limited. GMRC is formerly known as Metro-Link Express for Gandhinagar and Ahmedabad or MEGA. A section of east–west corridor of Ahmedabad Metro was opened to the public on 6 March 2019. Further details are following.
East – West Corridor (Vastral Gam to Thaltej) station Opening Date for Passenger Services : 02.10.2022
North – South Corridor (APMC to Motera Stadium) Station opening Date for Passenger Service : 06.10.2022
Train Timings : 0900 – 2000 Hrs.
Train Frequency : 30 Minutes
Minimum Fare : Rs.05/-
Maximum Fare : Rs.25/-
Ahmedabad Metro – Route Map
Station Details
Phase-1 (Under Construction)
Total Length: 40.03 km (24.87 mi)

North–south corridor: 18.87 km (11.73 mi)
East–west corridor: 21.16 km (13.15 mi)

Elevation:

Elevated: 33.50 km (20.82 mi)
Underground: 6.53 km (4.06 mi)
The total length of the Ahmedabad Metro Rail Project Phase-I is about 40.03 km out of which approximately 6.5 KM is underground and the rest is elevated section. The project will connect 4 corners of the Ahmedabad city with 2 corridors and 32 stations.
North – South Corridor – 18.87 KM
North-South Corridor with a length of 18.87 km will connect Motera Stadium to APMC, Vasna and will be passing through Sabarmati, AEC, Sabarmati Railway station, Ranip, Vadaj, Vijaynagar, Usmanpura, Old High court, Gandhigram, Paldi, Shreyas, Rajivnagar and Jivraj stations. North-South Corridor will be completely elevated with 15 stations.
East – West Corridor – 21.16 KM
The length of the East-West Corridor is about 21.16 km with 17 stations in the route. This corridor will connect Vastral Gaam to Thaltej Gaam and will be passing through Nirant Cross Road, Vastral, Rabari Colony, Amraiwadi, Apparel Park, Kankaria East, Kalupur Railway Station, Ghee Kanta, Shahpur, Old High Court, Stadium, Commerce Six Road, Gujarat University, Gurukul Road, Doordarshan Kendra, Thaltej stations. In the East-West corridor, approximately 6.5 km is the underground section with 4 underground stations and the rest is the elevated section with 13 elevated stations. Old High Court station will be an interchange station for both the corridors.
North-South Corridor
East-West Corridor
Legend
Motera stadium
Sabarmati
AEC
Sabarmati railway station
Ranip
Vadaj
Vijay Nagar
Usmanpura
Old High Court Interchange
Gandhigram
Paldi
Shreyas
Rajiv Nagar
Jivraj Park
APMC
Gyaspur (depot)
Thaltej Gam
Thaltej
Doordarshan Kendra
Gurukul Road
Gujarat University
Commerce Six Roads
Stadium
Old High Court Interchange
Shahpur
Gheekanta
Kalupur railway station
Kankaria East
Apparel Park (depot)
Amraiwadi
Rabari Colony
Vastral
Nirant Cross Roads
Phase-2 (Approved)
Total length: 28.254 km (all elevated)

Motera – Mahatma Mandir corridor: 22.838 km
Gujarat National Law University (GNLU)-GIFT City corridor: 5.416 km
North-South Corridor (Extension)
GNLU-Gift City Corridor
Motera stadium
Koteshwar Road
Vishwakarma College
Tapovan Circle
Narmada Canal
Koba Circle
Juna Koba
Koba Gam
GNLU
Raysan
Randesan
Dholakuva Circle
Infocity
Sector-1
Sector-10A
Sachivalaya
Akshardham
Juna Sachivalaya
Sector-16
Sector-24
Mahatma Mandir
PDPU
GIFT City
Fare Details
Following are the Fare Media allowed for Travelling within GMRC Network

Contactless Smart Token (CST)
Contactless Smart Card (CSC)
Temporary Paper Ticket (It will be used in case of Failure of AFC System)

Following are Fare Products available for Travelling within GMRC Network

Single Journey Token (SJT)
Return Journey Token (RJT)
Group Ticket (For Group of Passengers more than 10)
Tourist Ticket

Children only under 3 feet (90cms) height are allowed to travel free if accompanied by an adult.
Token purchased will be valid for use on business day of Purchase. Business Day will be considered as per implemented Timetable for Revenue Services.
Passengers can purchase Fare Media/Products by payment through cash or POS(Debit/Credit Card).
Refund of Token: Only unused CST (not used for entry) can be refunded within 30 minutes from time of issue from issuing station.
Maximum permissible Time: 20 minutes in case of Exit from Same Station and 120 Minutes in case of Exit from other Station.
Luggage Limit: Passenger is allowed to carry luggage of Weight 25 Kg andDimension of 80 cm x 50 cm x 30 cm (Length x Breadth x Height). Luggage of Size and/or weight more than this limit will not be allowed.
Penalty:

Penalty of Rs. 200/- will be levied if person is caught trying to carrying away token outside premise of GMRC.
Penalty of Rs. 10/- per hour per person subject to maximum of Rs. 50/- per person for staying in paid area for time more than Maximum permissible time.
If passenger is found without valid Ticket in paid area, Passenger is liable to pay Penalty of Rs.50/- plus Maximum fare of the system
Customer Care
For any Complaints related to Stations / Security Issues / Travel , passengers can Contact :-
Contact Telephone No.: 079-22960123
E-Mail: care@gujaratmetrorail.com
Duly Filled Complaint/Suggestion/Appreciation form by Walk-in at Operational Station
Time Table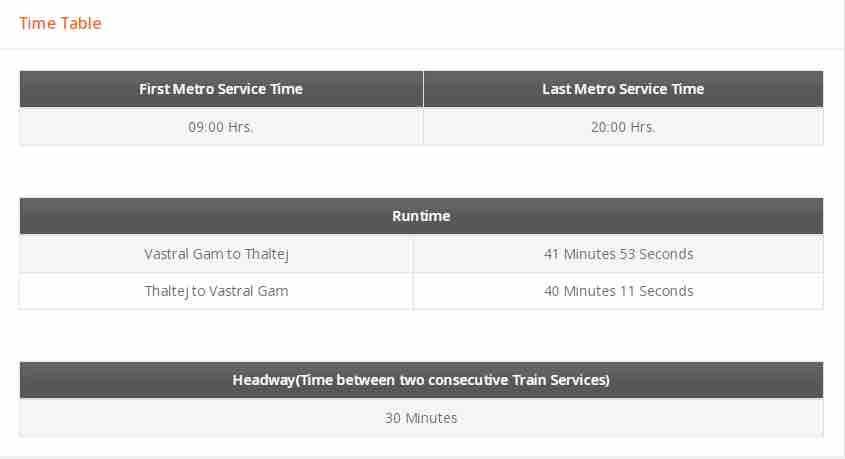 Downloads / Official Site