Kanpur Metro Rail
Kanpur Metro is a rail-based mass transit system in Kanpur, Uttar Pradesh, India, and extendable to the Kanpur metropolitan area. Further details, including Route Map, Station details etc are attached.
Kanpur Metro Rail : Details
Prime Minister will flag off the commercial operation of Kanpur Metro on 9-km priority section (IIT-Motijhil) at 12.30 PM (IST) on 28.12.2021 at IIT Kanpur Metro Station.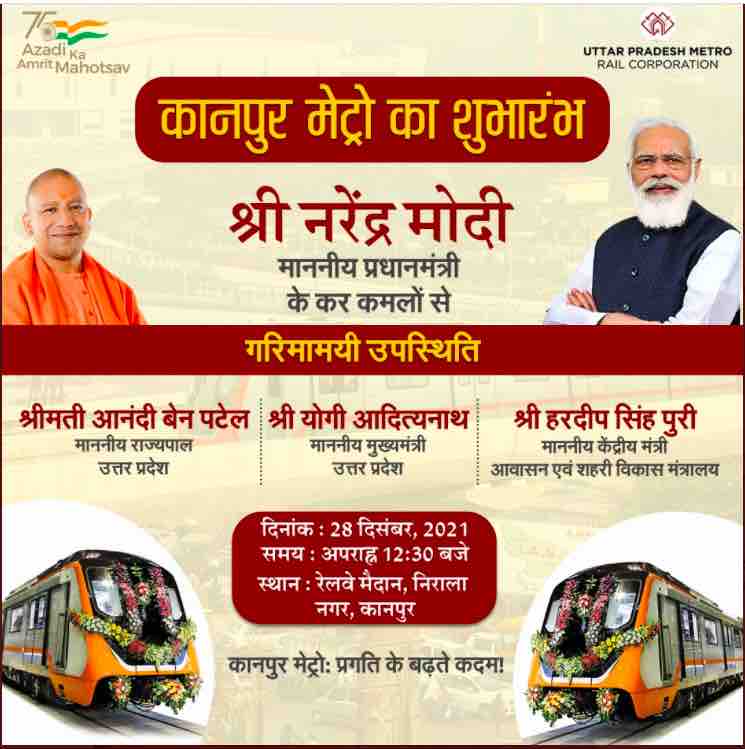 Kanpur Metro Rail : Route Map
Kanpur Metro Rail : Station Details
Phase-1 and Phase-2

The principle corridor is to be 25 km. The proposed Metro Rail course incorporates IIT, Rawatpur, Bada Chauraha, Motimahal, Kanpur Central, ISBT Jhakarkatti and Naubasta. As per the arrangement, the metro course would start from IIT Kalyanpur-Rawatpur, Mall Road, Phoolbagh, Kanpur Central Station, transport terminal of Jhakarkati-Kidwai Nagar – by means of Transport Nagar intersection to Naubasta.On this highway, 17 km track would be lifted and left 8 km would be underground. From IIT to Harsh Nagar, the course should be raised and from Chunniganj to ISBT Jhakarkatti by means of Parade, Bada Chauraha and Central Station the course will be underground.From Transport Nagar to Naubasta the track will be hoisted. A 10-km optional passage with 8 stations is likewise being however of. It would start from Chandrashekhar Azad Agricultural University by means of GSVM Government Medical College-through Govind Nagar Road-Fazalganj Chouraha to Vijay Nagar intersection to Barra 7 by means of Barra Road.From CSA to Double Pulia by means of Kakadev and Rawatpur Station, the course will be underground from Double Pulia to Barra 7 the course will be lifted.

Phase-3

In this phase of Kanpur Metro, the metro line is proposed from IIT to Jajmau in eastern part of the city by means of Kalianpur and ISBT Jhakarkatti.