Waiting rooms are available at major stations for use by genuine passengers. This logic is somewhat similar to airport waiting systems.
Waiting Rooms in Railway Stations
Waiting Rooms/Halls over Indian Railways
Check out Best Credit Cards to get complimentary (Free) railway lounge access
5374 numbers of stations have waiting rooms/halls over Indian Railways, Railway announced via press release on 30.07.2021. In the rest of the stations, seating arrangements are provided in the concourse/ticket booking area. Waiting rooms/halls are included in Minimum Essential Amenities, which are ensured at all categories of railway stations except Suburban Stations (SG) and Halt Station-3 (HG-3) stations. Upgradation/modernization of railway stations including waiting rooms/halls on Indian Railways is a continuous and ongoing process, however, priority is accorded to a higher category of stations over the lower category of stations while sanctioning and executing the works depending upon need, the volume of passenger traffic and availability of funds.
Types of Waiting Rooms
There are 3 types of Waiting Rooms
Lower Class Waiting Rooms – Non AC
Ladies Waiting Rooms – Non AC
Upper-Class Waiting Rooms – AC
The lower class and ladies are non AC but the upper class is AC. The upper class is for 3A/2A/1A/EC/CC passengers and non-AC rooms are for SL/2S passengers having confirmed or RAC tickets. There is a toilet usually in most waiting rooms but no shower facility.
Waiting Rooms : Rules by Railway
Waiting Rooms are present at all major railway stations in India mostly on Platform no. 1 or on the terminus side. They are for short term duration use and are free. They are for passengers waiting for departure (outbound trains) and not for arrival. They provide limited seating areas for passengers waiting to catch a train and so no reservations are allowed and seating is first come first served.
According to rules, it is 3 hours before departure or after the arrival of your train.
One should possess a valid ticket with a PNR number.
An entry needs to be made in the waiting room register.
Passenger can only enter the respective waiting room for the class of travel.
At the destination station, passengers are not allowed to spend time in Waiting Room.
At intermediate station where you have to change the train, you can spend time in the Waiting room till your train arrives.
If the train is late and you are not getting the waiting room you can ask for help to railway police and stay in the waiting room or a station in the permission of the Railway Officer, in that time no restriction for time.
Waiting Rooms in Different Stations Details
Details of Waiting Rooms in different Railway Stations in India
Sealdah Railway : Modern Executive Lounge 'Abhivadan'
Marching ahead in this direction, the newly transformed executive lounge 'Abhivadan' at Sealdah Railway station beside Platform No. 14 provides a serene atmosphere for the passengers while at Sealdah. Wooden Curves, bright lights, uniformly spread sofas, book racks & hot coffee all are ready there to welcome the passengers.
As a part of ER's continuous endeavour to increase passenger comfort improving ambience of the station area the transformed Waiting Lounge at Sealdah station beside Platform No. 14 has come up with all round comfort, hygiene & amenities. The 2nd Class Waiting Lounge with sitting arrangement is free of charge whereas the Upper Class Waiting Lounge provides comfortable sitting accommodation at a nominal charge of ₹10/- per hour. Besides, a-la-carte facilities like massage chair, fish spa and complete bed for a short nap is available at nominal charges. Food & beverages are also available at the passengers waiting lounge o­n payment basis.
Additionally, a terrace cafeteria has been opened at the rooftop with all the furniture resembling heritage of Kolkata like hand-pulled rickshaw cart, gas-lit lamps with terrace garden is available for the passengers to enjoy their waiting time with the family after getting palatable food from the counters. The total package is alike the oasis for the dreamer who are imagining of a modern station at Sealdah with all round comfort and amenities.
Shree Siddharoodha Swamiji Hubballi Junction Station
Second Class Waiting Halls at Mugma, Chhota Ambona and Kalubathan stations
Eastern Railway announced that (15.09.2022 ) Shri Pashupati Nath Singh, Hon'ble MP, in august presence of Smt. Aparna Sengupta, Hon'ble MLA, inaugurated a VIP Rest Room at Kumardubi Railway station and Second Class waiting Halls at three stations, viz., Mugma, Chhota Ambona Kalubathan Stations in a programme at Kumardubi Railway Station today (14th September 2022). Smt. Aparna Sengupta, Hon'ble MLA, Shri Permanand Sharma, Divisional Railway Manager/Asansol and other dignitaries were also present o­n the occasion.
The opening of Second Class Waiting Halls at Mugma, Chhota Ambona and Kalubathan stations, provided with state-of-the-art interior décor and modern fittings, will provide cozy accommodation for the passengers while waiting at the stations. With these, long pending demands of passengers of those stations have been fulfilled. VIP Rest Room at Kumardubi Station is equipped with plush sofa chairs where passengers can comfortably relax or take short nap in a spacious and pleasant ambience.
Shri Pashupati Nath Singh, Hon'ble MP, expressed his satisfaction o­n the arrangements made in these Second Class Waiting Halls at Mugma, Chhota Ambona and Kalubathan stations provided with sufficient sitting arrangements, toilets for ladies and gents, fan and lighting arrangements which will provide more comfort for the commuters. A tree plantation programme was also organised at North side of Kumardubi station beside platform No. 2 where Hon'ble MP, DRM and other officials participated in tree plantation.
Waiting Lounge of Jabalpur Railway Station, Madhya Pradesh
VIP Waiting Lounge, General Waiting Lounge : Sogaria Station
General Waiting Hall : Secunderabad Railway Station
General Waiting Hall at Platform 1 of Secunderabad Railway station now has the facility of DAWA DOST – where passengers can avail 24×7 Physician Doctor consultation and essential medicines at a nominal price.
AC Waiting Room : Visakhapatnam Railway Station
Waiting Room : Raniganj Railway Station
Renovated Station Facade and Upper-Class Waiting Room inaugurated at Raniganj Station o­n 25.02.2021. There is the provision of toilets, train information system, improved ambiance, etc.
Waiting Room : Kannur Railway Station
Waiting Room : Dimapur, Nagaland Railway Station
Waiting Room : Mumbai Central Railway Station
The Waiting Room has been upgraded with modern facilities such as Fully Air-conditioned waiting room with aesthetic ambience, Cushioned sofa sets, Recliner chairs, Separate toilet facilities separate for Ladies and Gents, Mobile charging points and Tea and light refreshment facilities. The modernization of waiting room was undertaken o­n PPP model. Railways saved o­n expenditure o­n its renovation and managed to generate revenue of Rs.1 crore, towards license fee for 5 years.
POD Hotels at Mumbai Central Railway Stations
Waiting Room : Anand Vihar Railway Station
Waiting Room : Guntakal Railway Station
Guntakal
Railway Station Waiting area details
Waiting Room : Ahmedabad Station
General category Waiting Room in Ahmedabad railway station on Platform 8/9.
Waiting Room : Bhagalpur Railway Station
Renovated Ladies waiting Hall at Bhagalpur Railway Station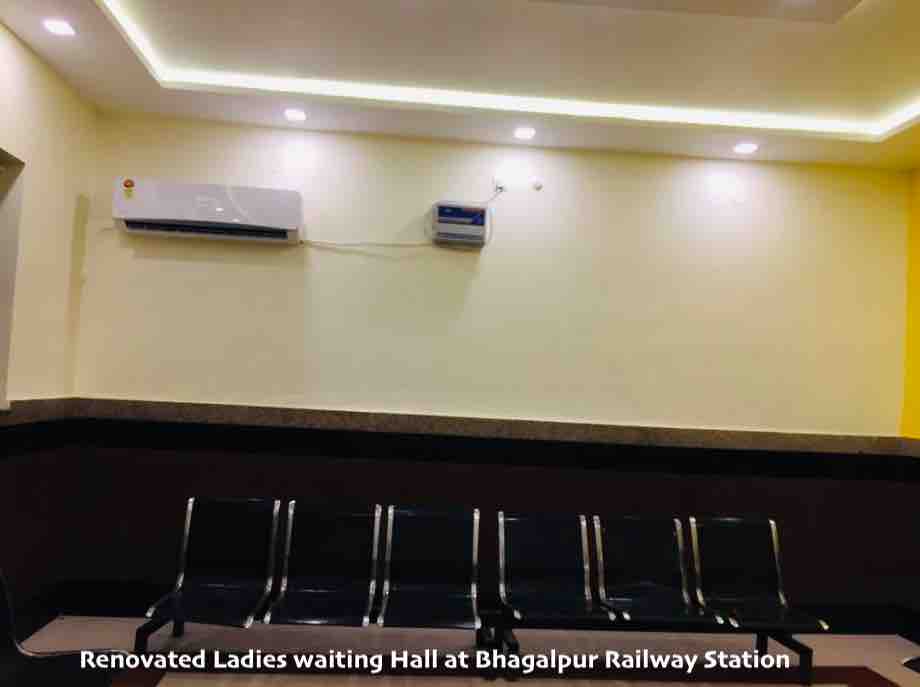 Waiting Room : Kalupur Stations
IRCTC lounge in Kalupur (Ahmedabad) railway station is available for ₹ 60 per hour. AC sitting, wi-fi, toilet, and charging port are available over there.
Waiting Room : Kollam Station
At Kollam station the Waiting Room facility is manned by Kudumbashree and the hall has a seating capacity of 40. A mini library, TV, washrooms and a kids play zone are additional features of these AC waiting hall. A reasonable entry fee of ₹ 25/hour is charged.
Waiting Room : New Delhi Railway Station
Two upper class AC waiting halls have been made available at New Delhi Railway Station, one each on Paharganj and Ajmeri Gate side. Passengers can avail the facility by paying a Nominal charge of ₹ 10/hr per person.
Waiting Room : Puratchi Thalaivar Dr M G Ramachandran Railway Station (Chennai Central)
Waiting Room : Patna Jn. Station
New waiting hall at Patna Jn. Station in 7500 Sqr ft area with over 300 persons seating capacity. Further 200 more seats can be added, 65″ – Digital screens with entertainment and train information 24×7, Madhubani Paintings, Centrally air conditioned hall, 100% Led lighting.
Waiting Room : Sambalpur Railway Station
A modern and Integrated Air-conditioned Waiting Hall is in Sambalpur Railway Station. This Integrated Waiting Hall is attached to the Food Court of the Station and passengers need not go outside to get Snacks and Drinking Water. 1900 sqft modern waiting area facilities have been provided to the passengers at a cost of about ₹ 25 lakhs. Public Address System has been installed in the Integrated Waiting Hall to enable the passengers to know about information o­n arrival and departure of Trains.
Besides the choice of refreshments, Modern Steel Chairs are available in the Integrated Waiting Hall. The state-of-the-art Integrated Waiting Hall is the o­nly of its kind in Sambalpur Railway Division where passengers can get relax during waiting for their trains with the option to munch o­n snacks, chocolates, and other food items or sip tea, coffee, and juice. Apart from the above, the well-furnished Integrated Waiting Hall has been given the look of local Arts and Culture having Divyang Friendly facilities.
Waiting Room: Sealdah Railway Station
New Upper-Class Waiting Room for more comfort to the passengers commissioned at Sealdah station (Eastern Railway) on 21.9.2019. The new Upper-Class Waiting Room at Sealdah opened on 21.09.2019 by an elderly lady passenger in presence of DRM/ Sealdah and other senior Divisional Officers.
Waiting Room : Trivandrum Central Station
AC Paid waiting room at Trivandrum Central with a seating capacity of 48 passengers has been set up in association with Kudumbashree, an all-women Self Help Group under Govt. of Kerala.A reasonable entry fee of ✅ ₹ 25/hour is charged.
Vishakhapatnam Railway Station Gaming Zone For Passengers
First time in Indian Railways a gaming zone has been developed at PF No.1 of Vishakhapatnam Railway Station for waiting passengers and their children. This is an innovative initiative by Waltair Division.